Management Consulting and the Social web very rarely meet. Whenever they do however it is always extremely funny. This is why I made 15 famous internet memes into consulting memes supplementing them with Management Consulting context and quotes.
Based on the internetzkidz.de Evergreen 11 famous internet memes you should know I extended the meme section of this blog by 15 Management Consulting Memes that feature common consulting contexts and situations. Or should I say 15 memes only Management Consultants will understand?
Push your deadlines and enjoy the read!
1 | Tuned timesheet submitted for a boosted bonus?!
(And Then I Said Meme)
2 | Always a sad moment when your favourite point of contact vanishes into thin air
(Aaaand it's gone Meme)
3 | The rest of them are just seeking payback by punishing consultants
(Good Guy Greg Meme)
4 | When the adhoc report turns daily report all of a sudden
(I should buy a boat cat Meme)
5 | But you still want me to make you money, right?!
(Sarcastic Tell Me More Willy Wonky Meme)
6 | It's friday, friday, friday …
(Scunbag Steve Meme)
7 | Agencies send you psd-files! Consultants send you xlsx-files!
(That Would be Great Meme)
8 | That's why you call "Thursday" the "Consulting Friday"!
(Dr. Evil Air Quotes Meme)
9 | Acquisition is a process – even when using a freemium workshop model
(Things are getting pretty serious Napoleon Dynamite Meme)
10 | Is there anyone out there dialing into a Zoom call fully clothed?
(The most interesting man in the world Meme)
11 | Do not overestimate the "consulting" in "management consulting"
(Morpheus Matrix Meme)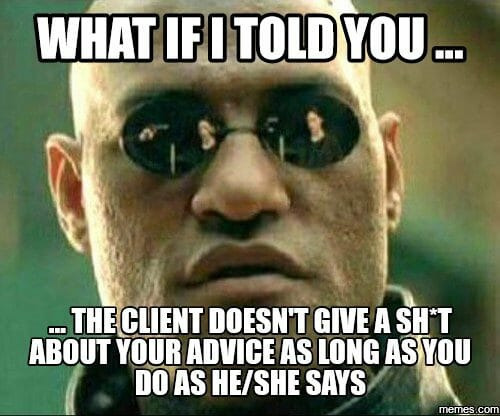 12 | We are sorry, but they data you requested is confidential in nature
(Pulp Fiction meme)
13 | BTW one of the single most important features of thinkcell: autofreeze
(I ain't even mad Meme)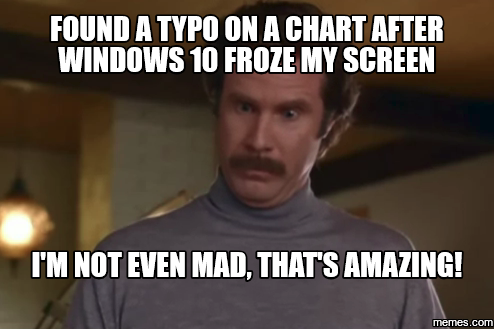 14 | Sorry McKinsey
(Damned Scots, They Ruined Scotland Meme)
15 | Insert joke here: _______
(Giorgio A. Tsoukalos Ancient Aliens Meme)